InfantSEE®
Optometry Cares – The AOA Foundation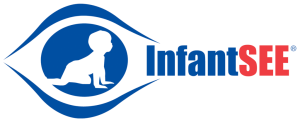 and The Vision Care Institute, LLC a Johnson & Johnson company partnered to create InfantSEE®, a no-cost public health program developed to provide professional eye care for infants nationwide. Through InfantSEE®, optometrists provide a one-time, comprehensive eye assessment to infants in their first year of life, offering early detection of potential eye and vision problems at no cost regardless of income.
The InfantSEE® program:
Provides

no-cost

access

to an eye-care doctor who has the instruments and resources not available to general-care doctors like pediatricians and family physicians
Detects potential problems that, if undetected, may lead to learning and developmental issues later
Gives new parents the peace of mind that their infant's vision is developing properly
Prevalence of Vision Problems and Eye Diseases That Will Develop in Children
1 in 10 children is at risk from undiagnosed vision problems
1 in 30 children will be affected by amblyopia – often referred to as lazy eye – a leading cause of vision loss in people younger than 45 years
1 in 25 will develop strabismus – more commonly known as crossed-eyes – a risk factor for amblyopia
1 in 33 will show significant refractive error such as near-sightedness, far-sightedness and astigmatism
1 in 100 will exhibit evidence of eye disease – e.g. glaucoma
1 in 20,000 children have retinoblastoma (intraocular cancer) the seventh most common pediatric cancer
More Information from InfantSEE®
Apple Valley Vision has the experience and equipment necessary to examine your infant at our office in Payson. For more information please schedule an appointment with us, or contact us and we will be in touch with you shortly.
Preparing for your trip to the Optometrist
Patient History Form – You can have this form filled out ahead of time to speed up the process. Please bring it with you to the exam.
When setting an appointment time, let the practitioner know if you have any special concerns or conditions.  Set an appointment time that is most agreeable to the baby's schedule, avoiding nap time.
On the day of the visit, change the infant's diaper just before the assessment.  Children in this age group generally perform best if the assessment takes place when they are alert. Because infants tend to be more cooperative and alert when feeding, it is also helpful to bring a bottle to feed the child. Bring a security toy or object for the infant, but also toys or games that will hold older siblings' interest if they are coming too. If possible, arrange for only the infant and the parent to be in the exam room during the assessment.
During the assessment, most likely you will be asked to hold the baby on your lap, or on a lap pillow.  Parents should be present for the assessment to help the baby focus on the doctor, so avoid talking to the baby or adults during the assessment. You may be recruited to hold targets or be a puppet master to hold the baby's attention during certain procedures. The optometrist may encourage the child to touch and explore the instrument. Be ready to play each "game" first to show the baby that it is safe and fun.