Blue Light Special!
Dr. Blake
What is all this hoopla about Blue Light?
We get questions all the time about Blue Light and its effects on eye health. Here at Apple Valley Vision, we feel very strongly about Blue Light and its potential effects on the eye. Eye health is often a forgotten aspect to many people and their overall well-being. I wanted to update the few people who may be searching for blue light resources from the perspective of an eye doctor. Is there really something happening in the eye with all that blue light or is it just a marketing gimmick? After all those rich doctors are just trying to make more money off me, right?
The basic science, for all the nerds out there (me).
Visual perception happens like this: Light bounces off objects and into our eye, passing through the transparent tissues of the the cornea, the lens, various fluids along the way, until it reaches the photoreceptors. All of this information is then processed by neurons and passed through to the brain (more on this, later).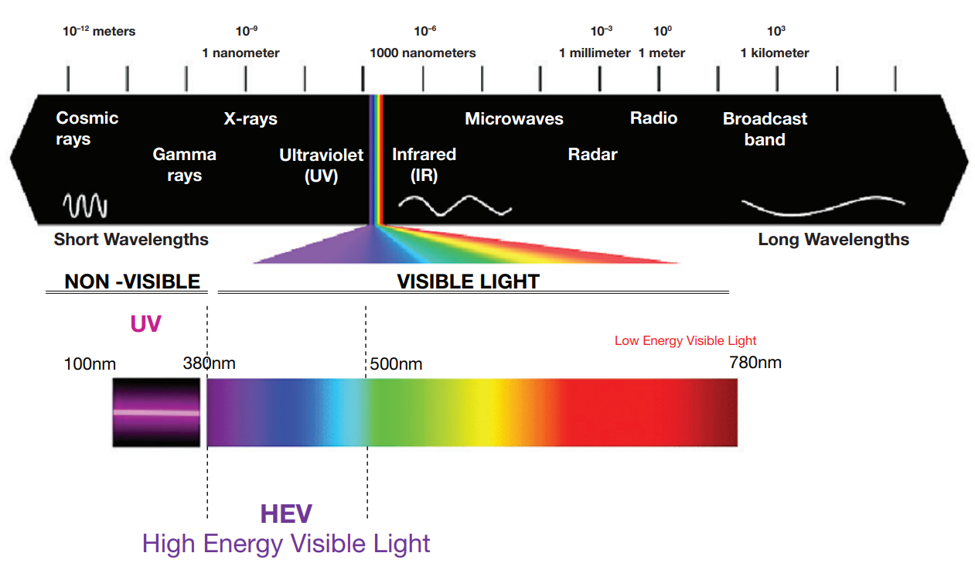 There are basically two types of light. Visible light and non-visible light. Non-visible light is classified as UV (100 nanometers to 380nm) or Infrared light (780nm and higher). Visible light is everything we see and has color (380 nm to 780 nm). (For those who don't see colors well because of color deficiency, this spectrum is shifted abnormally so colors are hard to distinguish. For more information on this visit our link on color blindness and EnChroma). Some non-visible UV light (1-2%) does reach the retina, but most is absorbed by the cornea and crystalline lens. Most visible light is what reaches our retina. It is the high energy or lower wavelength visible blue light that can reach the retina. Various light sources have different amounts of energy across the light spectrum.
As you can see below, sunlight emits the most energy at lower wavelengths, thus making it the biggest source of blue light. Incandescent lights don't emit as much blue light because they are shifted to the warmer tones (higher wavelength). For perspective, the sunlight emits about 25-30% blue light, while incandescent lights only emit about 3% blue light. About 25% of fluorescent lights are made up of this blue light, while LED lights (screens, phones, light bulbs, computers, etc.) are made up of about 35% blue light. Since humans are spending upwards of 9+ hours per day on screens, you can see why the overall quantity of blue light is much higher than it used to be.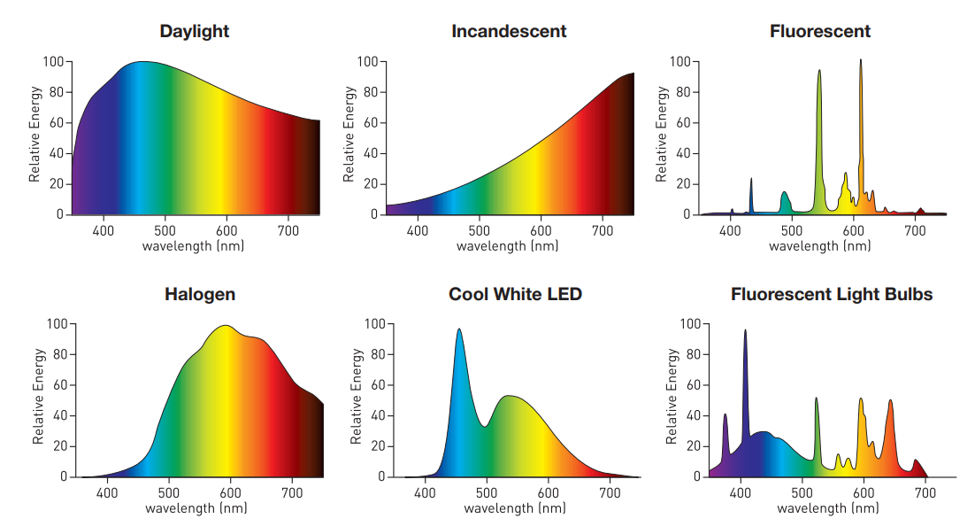 So how does this affect my eyes, you ask?
Some blue light is actually good for us. there are non-visual functions that rely on some of this blue light. There are cells in the retina called intrinsically photosensitive retinal ganglion cells (ipRGCs). One of their roles is to respond to light that helps in non-visual function, such as to signal functions in the body such as circadian rhythms (sleep), pupillary light reflex, mood, locomotor activity, memory, and body temprature.
Blue light damage occurs when photons of energy get trapped in the photoreceptors, causing free radical reactivity. this sets a cascade of events causing damage to the photoreceptors and also the Retinal Pigment Epithelium (RPE), which cells are responsible for supplying nutrition and reducing stress from the photoreceptors. This can then result in an accumulation of lipofuscin (the "age pigment") in the RPE. this lipofuscin is composed of lipids, proteins, and a number of other things which is implicated in the process of Age-related Macular Degeneration.
What can I do to protect my eyes?
Great question! Basically this boils down to 2 things:
Nutrition
Lens protection from digital devices.
Nutrition plays a huge role in our eye health. The old adage that carrots are good for your eyes is in fact, true. But carrots alone aren't going to cut it. You also need kale, spinach, colorful bell peppers, corn, and even egg yolks. All of these foods contain nutrient rich lutein and xeazanthin, caratoenoids or pigments which efficiently filter out short-wavelength radiation (blue light) before it reaches the photoreceptors and RPE. So you can create your own internal blue filter by supplying your retina with outside sources (food) of these pigments. The problem is that even if you ate a "healthy dose" of these vegetables every day, you probably still wouldn't get all the the macular pigments your eyes need. This is largely due to the fact that soils are heavily depleted of nutrients. (check out this article for more on that). As such, we at Apple Valley Vision recommend MacuHealth, a dietary supplement containing only the macular pigments lutein, xeazanthin, and meso-xeaxanthin to help supply the retina with the protection it needs from Macular Degeneration and blue light damage.
We recommend products such as the Essilor EyeZen lens or the Hoya Sync lens, among others to help filter out much of the  harmful blue light that reaches our retina from all of the digital sources we are exposed to on an ongoing basis. If you are a contact lens wearer or don't have a prescription for glasses that you require to help you see better, that is just fine. You can get plano (non-prescription) blue light protection lenses.
I hope this has been helpful for the 1 or 2 of you that will read this. If you would like more information on this, especially if you want to check the health of your own eyes to see if there are any structural or functional damages to your eyes, please contact us today to set an appointment. This is a routine part of all our comprehensive eye exams. Dr. Rowley and I would love to help take care of your overall ocular and visual health.